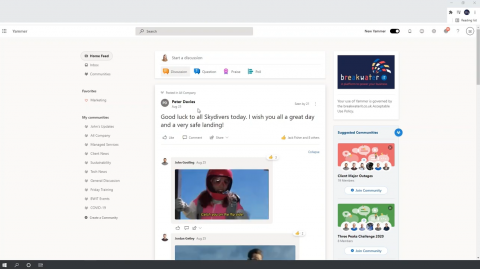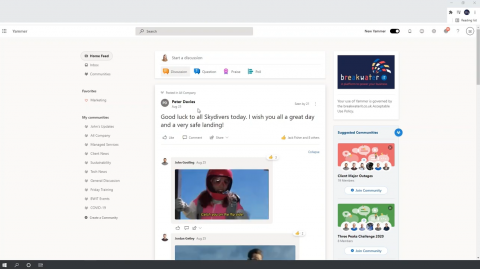 It can be difficult to keep up with all the new features and updates that Microsoft release across their suite of applications. To make life easier for you, we've put together the best releases to look out for.
Microsoft Teams
Chat with Self
You will be able to send yourself notes, messages, files and images/videos; helping you stay organised.
Suggested Replies in Chats
Suggested replies in Teams chat will use assistive AI to create short responses based on the context of the previous message. Suggested replies will present users with up to three recommended responses to choose from.
Speaker Coach in Microsoft Teams Meetings
Speaker Coach will provide private, personalised feedback on your speaking and presentation skills in both real-time as well as post-meeting in a summary.
Presenter Mode: Controls to Move and Resize Presenter Video
Presenter mode video controls enable presenters to move and resize presenter video feed and automatically adjusts content size accordingly. This can be applied to all modes on Desktop or Window sharing including standout, side-by-side, and reporter.
Data Reports for Polls After Teams Meeting
If you have used Forms poll in a Teams meeting, a summary report for the polls will be generated and shared with the meeting organiser and presenters.
Language Interpretation
Language interpretation will allow language interpreters to translate what the speaker says into another language in real time without disrupting the original flow of delivery of the speaker. This will allow more inclusive meetings, where participants who may not speak the same language can fully collaborate with each other.
Call Control with Bluetooth Headsets and Speakerphones
You'll be able to use device buttons to control call (answer, end, hold) from Bluetooth audio devices without needing a USB dongle when connected to a Windows PC running Teams desktop client.
Teams on the Web
Integrated CART Captioning in Meetings on Web
You will be able to view captions coming from a CART provider (real-time captioning) within a Microsoft Teams meeting on Chrome and Edge. Meeting organisers and participants will be able to ask their captioning providers to stream captions to Microsoft Teams.
Share the System Audio from Meetings on Web
If you're in a Teams meeting on web you will be able to share audio while screen sharing.
Teams Mobile
Text Prediction
When you compose or reply to a message in Teams, Editor Text Predictions will anticipate your writing and suggests a suitable word or phrase inline.
Outlook
Third-party Support for Meetings Online by Default
Previously, Outlook released the option for meetings to be online by default. In that release, the feature was only available to users of Microsoft Teams and Skype for Business. This update will add support for users of third-party online meeting providers to make their meetings online by default, or to select their preferred online meeting provider if they use multiple providers.
PowerPoint
Organisation Fonts in PowerPoint for Windows
This feature will allow your organisations to add custom fonts into PowerPoint.
Yammer
Introducing Editing Attachments on Yammer
With this feature, attachments on posts can be modified or removed after being posted. This applies to all types of attachments such as images, links and GIFs and will allow authors to correct any mistakes made with the original attachments without having to delete the thread and start over.
Microsoft 365 Web Apps
Account Switching for Microsoft 365 Web Apps
You can sign into multiple work and personal accounts on Microsoft 365 web apps in the same browser. This allows you to seamlessly switch between accounts without having to sign out and sign back in again.
OneDrive
Sharing Experience – Share Menu Dropdown
Microsoft are updating the Share menu to provide easy access to additional sharing options such as Email, Copy link, and Teams chat.
Easily Navigate to All Your Teams Files from OneDrive
In OneDrive, a "Your Teams" section is being added to the "More Places" page to allow you to easily find and work with all your files in Teams.
Activity Column in My Files
When you navigate to the "My Files" page in OneDrive for Business Web, you'll soon see an Activity column that shows which of your shared documents have unseen edits and comments.
SharePoint
Private Drafts for SharePoint Pages and News
The ability to create private drafts for pages and news posts is being added to SharePoint. A private draft is visible only to the page author, the people the author chooses to share it with, and site admins. It's great for creating and editing content that's not ready for others to see except the people you want to collaborate with.
Lists
Android Mobile App
Access all lists you own and that have been shared with you on your mobile. You'll be able to create new lists, edit list items and easily share with other people.
To note: whilst these features are expected to be released in April, the process of rolling them out to all users can take time. Occasionally features can be delayed.