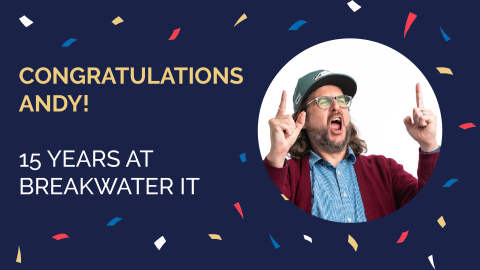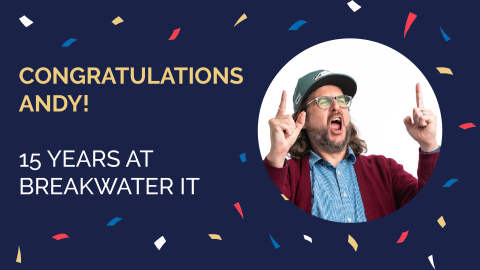 In the 17 years since Breakwater IT was founded, Andy Malcolm has worked for us for 15.
Andy started working in IT support in 1999, taking on roles such as a Network Administrator at Easton College, and working in the support team at Norfolk County Council. Fast forward to today, Andy is now our Strategic Services Manager, heading up our Network Admin side of the Service Desk. This includes managing our team of pro-active engineers who work to prevent issues from happening before they reach the client.
Here's what Andy had to say reflecting on his 15 years in team Breakwater:
"In the 21st century I'm not sure you're supposed to work 15 years in the same place but here we are, it's happened to me. I think more people like to change jobs frequently, so they don't feel that their work goes stale, to obviously be presented with new challenges, and to learn new things. For me, working at Breakwater IT has brought all of that, consistently. The field of IT support constantly changes, and my job has evolved a great deal over that time. It gives me that essential element of keeping things fresh and interesting. And things like advanced remote management with Connectwise have changed how we work beyond recognition, no need to drive to a customer site to perform basic tasks anymore!
There were of course periods where things were hard. Especially when the company went through some big changes about 10 years ago. But the work and the opportunity to change and hopefully improve things myself kept bringing me back. It also helps that there has been a lot of genuinely excellent people to work alongside with over that time. Knowing I trust and enjoy working with colleagues is essential to my job satisfaction.
Thanks to everyone who has contributed to making Breakwater what it is now over the past 15 years. Nobody working here now would recognise those early iterations of Breakwater, that's for sure!"
A big thank you to Andy for 15 years of hard work and dedication!