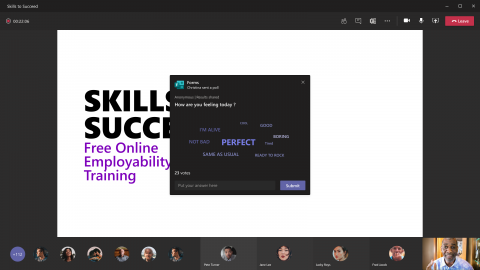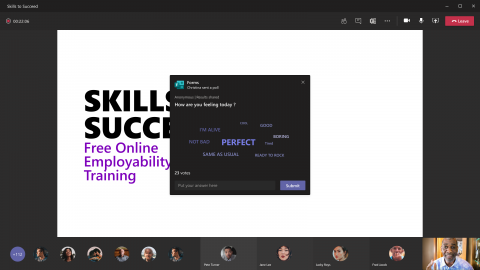 Each month Microsoft roll out updates to its suite of software including Teams, Outlook, Yammer and more. You could look through all the updates on the Microsoft roadmap. But to make it easier, we've put together the top ones to look out for this September.
Teams
Teams Q&A
Question & Answer application for Teams webinars & meetings. By adding this application to any Teams Webinars or Meetings, users will be able to create either moderated or unmoderated Q&A experience.
Paging on Video Gallery for Web
When you are in gallery view, and there are more videos than what can be shown at once on the meeting stage (the maximum number can vary depending on your device configuration and internet bandwidth), navigation controls and will appear below the Video Gallery to see additional videos of the attendees. You can use these controls to view more video participants.
Fluid Components in Teams Chat
Fluid components in Teams chat allow end users to send a message with a table, action items or a list that can be co-authored and edited by everyone in line.
Reply to a Specific Message
When chatting in Teams, you will be able to reply a specific message. The original message will be quoted in the reply text box, helping everyone in the chat to understand the message's context more easily. Quoted replies will be available in 1:1, Group and Meeting chats.
Pin Chat Messages
Pin a Teams chat message to drive awareness and provide the chat members with quick access to important content. Pinning will help your team stay in sync on what's and relevant in a timely manner.
New Default Settings When Opening Office Files
Users can set a default of browser, desktop or Teams when opening Office files (Word, Excel, and Power Point) that are shared in Teams. The desktop setting can be selected, if the user has Office version 16 or newer installed and activated.
New Default for Teams Notification Style
Teams notification style will be defaulted to native notifications for new users. Currently the default style is Teams purple. With this change to native notifications the user will benefit from support for assist mode, action centre, accessibility and more.
Music Mode for Teams
In music mode, we support up to 32 kHz sampling rate mono audio at 128 kbps, and optimise our internal audio processing settings for reproducing music with high fidelity. Teams will automatically adjust the audio bitrate based on the available bandwidth, going down to 48 kbps while still delivering good music quality. We also provide users the option to turn off components such as echo cancellation, noise suppression, and gain control if needed. To benefit from this improved fidelity, professional microphones and headphones or high-quality external loudspeakers are ideal (no Bluetooth headsets). Built-in microphones and speakers on laptops such as the Surface Book will also deliver good experience.
Pairing the Channel and the Corresponding SharePoint Folder Name
When renaming a Teams' channel, the corresponding SharePoint folder will be renamed and reflect the new name. This will help create consistency across Microsoft 365 endpoints, making it easier on users to find their files from anywhere. This new feature will be available for all Standard and Private channels. For Standard channels – The corresponding folder in SharePoint will be renamed. For Private channels – The corresponding site name and the folder in SharePoint will be renamed. For legacy Teams channels that were renamed prior to this rollout, there will be no change in experience. When a legacy channel is renamed after this release, it will simultaneously rename the corresponding SharePoint folder.
Music on Hold for Consult/Transfer
Music on Hold for Consult/Transfer scenarios ensures that users placed on hold will hear music while consultation and transfer occurs, ensuring that the caller knows that the call is still active.
Teams – On the Web
Background Effects
When you use Teams on the web, you can either blur your background or replace it entirely with the images provided in your video meeting or call.
Live Captions in all Available Languages on Teams Meetings on Web
Live Captions in all available languages are now available for web users of Teams Meetings.
Live Transcript in all available Languages in Teams Meetings on Web
Live Transcript is now available in all available languages for web users of Teams Meetings.
Teams – iOS
Answer Meeting Nudges with Video
This feature brings the ability for iOS devices to automatically answer incoming meeting nudges with their video on. The feature availability is controlled through AutoAnswerwithVideo.
Teams and Forms
Word Cloud for Polls in Teams
When users have collected responses for an open text poll in a Teams meeting, word cloud data insight will be available to help them get a quick view on the top text phrases people answered.
Forms
Manage and Organise Your Forms and Quizzes Now
Forms organisation allows user to manage and group all forms/quizzes in their own way to efficiently archive and categorise their forms.
Excel
Track Tasks With @Mentions
Use @mentions in comments to create, assign and track tasks within your workbook.
Yammer
Establish Official Communities in Yammer
Designate your most important communities as "Official" to show that they are company-endorsed within the network. (CEO Connections, Contoso News, IT Help, HR Support, LatinX Community).
Send Live Event Calendar Invites
Send a calendar event to all community members without leaving an event page in Yammer.
Moderate Comments and Q&A in Live Events
Allows a producer of a live event in Yammer to moderate comments, questions and answers posted in a live event page before they are published and visible to everyone in the event.
Outlook on Web
React to an Email Message
Outlook on the web is expanding the existing ability to like email messages with a thumbs up icon. In addition to likes, users will be able to react with love, celebration, laughter, surprise, or sadness.
SharePoint
SharePoint News Boost
Show important news and announcements at top of news feeds across Microsoft 365. You can prioritise visibility of a news article for a set time that you manage.
Stream
Variable Playback Speed (0.5-2x) For Microsoft Teams Meeting Recordings
For Teams meeting recordings saved to OneDrive & SharePoint you'll now be able to change the playback speed (0.5x – 2x) while watching the video.
Updated Web Player for Video & Audio Files Across Microsoft 365
The web player for audio and video files that are stored in OneDrive and SharePoint (including when those files are embedded in Teams, Yammer, and SharePoint), is updated with a new user look and feel, and adheres to greater levels of accessibility for keyboard navigation and screen readers.
To note: whilst these features are expected to be released in September, the process of rolling them out to all users can take time. Occasionally features can be delayed.