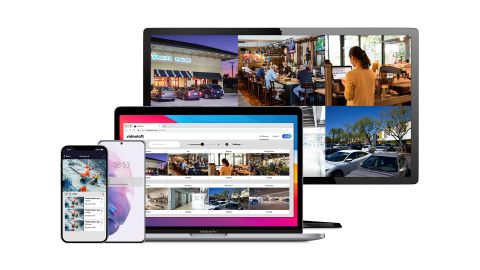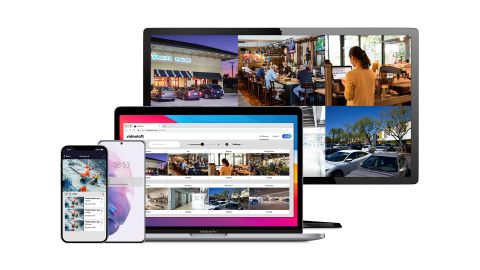 When you think about a traditional CCTV setup, you think about the cameras. This is usually followed by the multi-screen setup with someone constantly watching. But this doesn't have to be the case when you opt for cloud CCTV.
What is Cloud CCTV/Video Surveillance?
With Cloud CCTV, all footage recorded by your cameras goes directly to cloud storage via the internet. Using a desktop or mobile app, you can then access a portal to view recorded footage or a live stream. This means you can access the footage from your camera(s) anytime, wherever you are.
Additionally, the footage stored is all encrypted, meaning it can only be accessed with a secure login to the platform.
What are the Benefits of Cloud CCTV?
It Keeps Costs Down
Cloud CCTV is a cost-effective choice in comparison to a traditional on-premise system. The only up-front cost is the cameras and installation. There is no need to purchase expensive hardware to maintain operations.
Additionally, through our partnership with Videoloft you can plug-in their cloud adapter to your existing surveillance setup – giving you cloud CCTV access without the need to install new cameras.
24/7 Access – Wherever You Are
Using a desktop or mobile app, you can access your cameras and footage when you need to. Whether you're at a coffee shop or tanning abroad, if you have an internet connection you can access the live stream.
Live Motion Alerts
With your cameras accessible anytime, anywhere, real-time motion detection alerts mean you'll be able to respond to any movement immediately, rather than waiting to discover an incident later.
Real-time Control
Through the mobile or desktop app, you can control the movement of your cameras. You'll be able to pan, tilt, zoom, and even communicate through your cameras.
It's Secure
The footage is stored in a secure, offsite cloud storage. Without the need for on-premise monitoring, hardware cannot be stolen or damaged and any recordings will be encrypted.
How We Can Help
We offer cloud CCTV management through our partnership with Videoloft. We can help you with the purchase, set up and any installation to modernise your business surveillance system. Download our product brochure below to find out more, or get in touch for a free demo.