Sam Edwards
Marketing Manager
As our Marketing Manager, Sam's focus is to showcase Breakwater IT and the solutions we offer businesses. Within her role, she develops and gives voice to the Breakwater brand across various marketing channels. This is both digitally and through our own events programme. Sam is also involved in our sustainability and community projects.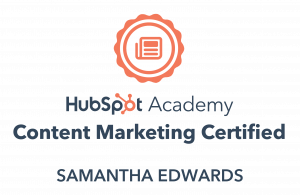 We asked Sam:
Tell us about your previous experience:
My career started at 17 when I took up an opportunity to do a Business Administration Apprenticeship. This had a focus on events management. Since then, I have developed my skills in both marketing and event management. My portfolio of work includes organising, growing, and profiling Norfolk's largest business to business event.
My role at Breakwater IT allows me to tap into my creative side with a strong brand built around our customers. I have an energetic interest in both marketing and technology. As well as a desire to keep learning and developing my skills; something Breakwater actively supports me in doing.
What do you enjoy doing outside of work?
I try to keep my home life quite chilled; listening to music or watching films/tv with my husband and our cats: Benjen – named after a Game of Thrones character; and Seth – a 15-year-old adoptee. I often like to try new things and learn new skills, particularly things that involve getting creative and making a mess.
Mostly though, I can be found on eight wheels as roller skating is a big love in my life. I train and play regularly with Norfolk Roller Derby – it's the most amazing sport but don't ever ask me about it, unless you want to lose a few hours!
Name one thing about you that surprises people:
I don't like Nandos. Bang average.
A real pleasure to deal with such helpful staff. Thank you.
Vicki George, East Anglian Air Ambulance